NICK DANIELSON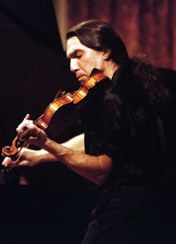 Violinist, Nick Danielson is the Assistant Concertmaster at New York City Ballet, a member of Orpheus Chamber Orchestra, and a highly regarded musician in the Argentine tango scene. He has performed extensively as a soloist and chamber musician in the North America, Latin America, Europe, Asia and Australia.
In addition to his activities in the classical music world, Mr. Danielson is an avid performer of tango music. Nick has closely collaborated with renowned tango musicians such as Gustavo Casenave, Pablo Ziegler, Fernando Otero and Hector Del Curto. With these musicians he has recorded "Vazquez y Vega" featured in the film "The Rind" (La Cascara)directed by Cali Ameglio and the music from Gustavo Casenave, "The Lost Days" (RCA) with Denyce Graves and Pablo Ziegler and two recordings with Fernando Otero, "Plan" and "Revision". He has also performed on Broadway show "Tango Argentino".
As a member of Orpheus Chamber Orchestra, Nick Danielson has appeared on numerous recordings such as Stravinsky´s "Concertino" and the Grammy winning CD "Shadow Dances". He has also recorded with the celebrated singer Kathleen Battle on her CD "Grace" (Sony).
Mr. Danielson started his violin studies at a young age in Hartford, Connecticut. His early influence on tango music came from his mother who is a native of Cordoba, Argentina. Prior to moving to New York City, he was the first violinist of Chester String Quartet which had faculty position in Indiana University at South Bend. Mr. Danielson is a graduate of the Curtis Institute of Music, where he studied with the legendary violin teacher, Ivan Galamian.