PEDRO GIRAUDO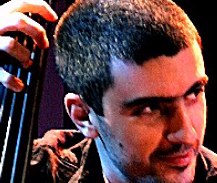 Originally from Cordoba Argentina, Pedro Giraudo moved to New York City in 1996. Since then he has become an in–demand bass player playing in a great variety of musical projects. He currently leads three ensembles – Pedro Giraudo Jazz Orchestra, Mr Vivo Big Band and Mr Vivo, captivating listeners around the world with their unique blend of South American grooves, Argentine folk songs, the passion of tango and jazz improvisation.
Mr. Giraudo has performed professionally with Pablo Ziegler, Kenny Garret, Marco Granados, William Cepeda, Chris Washburn, Gustavo Casenave and Bobby Sanabria. He has recorded critically acclaimed CDs – "Desconsuelo" and "Mr Vivo" with his ensembles as well as with Eternal Tango, Fernando Otero´s X–tango, Marta Topferova, Lucia Pulido, Mo´Guajiro and Jess Jurkovic. He has participated in various Jazz and Music Festivals throughout the United States, Europe, South America, the Caribbean and Asia and performed in venues such as The Blue Note (Japan), Birdland (Vienna), Kennedy Center (Washington DC), Blue Note (NYC), Iridium, Jazz Standard, Lincoln Center and Carnegie Hall.
Mr. Giraudo holds a Bachelor´s degree in Performance from Manhattan School of Music where he was a scholarship recipient and a Master´s degree in Performance from City University of New York where he studied with Professor Ron Carter.